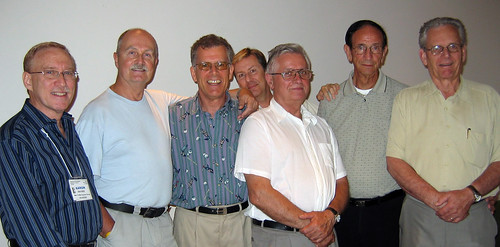 I was one of six presenters at the Toronto Man to Man Prostate Cancer Support Group, Survivor Forum, July 26, 2006. Slideshow
Here is my presentation.
ABOUT ME
Hi everyone! My name is Ron Foreman and I moved to Toronto 2 years ago from Montreal where I was born in 1945. I've always been physically active: swimming, skiing, long distance running, and more. I haven't smoked since I was a teenager, have been sensible with my eating and alcohol consumption, and have had a PSA every 2 years since I was 50.
MY DIAGNOSIS
Late last fall, in 2005, my PSA went from 3 to 7. I had a biopsy on January 13th of this year and received the results on January 25th: Stage T1C and Gleason 6; and that's good news as far as prostate cancer is concerned.

TELLING FRIENDS & FAMILY
I told my family and friends immediately and they were very supportive. I don't feel any stigma associated with having cancer as some people might. I also told my clients and other business colleagues and I regularly posted details to my Internet blog.
MY DOCTORS & MY DECISION
My urologist is Dr. Spevak who would have performed the surgery had I chosen that treatment. However, without going into great detail with me, he referred me to Dr. Gerard Morton at Sunnybrook, whom I met March 2. When I was told that brachytherapy, the implanting of 80-120 radioactive seeds in the prostate, was an option for me; that the recovery period was normally much shorter than with surgery; and the cure rate was 90-95%, I chose that treatment.
A TRUS, ATTENDING MAN TO MAN, & MY BRACHYTHERAPY
On March 8 I had a TRUS, a Trans Rectal Ultra Sound, to map the prostate for the brachytherapy seed implants. On March 28th I attended my first Man to Man meeting; this is a great group by the way. On April 4th Dr. Morton and his team implanted 88 seeds in my prostate. It was painless thanks to the spinal anaesthesia and sedation.
DIFFICULTY PEEING
After the treatment I also didn't have any significant pain, however, within two weeks I started having trouble urinating. Nevertheless if I was patient, I eventually had some success. As a result, sitting there in the bathroom in the middle of the night, I was able to read some great books that I might not have had time to read.
MY MEDICATION
I was told to take 6 – 200mg Ibuprofen, two each in the morning, afternoon, and evening and one Flomax a day and I'm still taking all of them almost 4 months later.
MY CATHETER
On May 4th, one month after the treatment, and as is customary, I had a follow up exam. At that time I was getting up frequently at night to pee, at its worst every 45 minutes, but I wanted to try to get through this myself. However on May 9th I gave in and had a catheter inserted. This only happens in 5-10% of the brachytherapy cases but I was one of them. I had it for two weeks. Many of you have been through this; it's uncomfortable but could be much worse.
MY BLADDER INFECTION
On June 21, almost a month after having the catheter removed, and almost three months after the treatment, I discovered I had a bladder infection and was on an antibiotic for 8 days. Since then my symptoms have abated, and I've slept through the night on a couple of occasions, 7 ½ hours without interruption. I've had no incontinence or erectile dysfunction at all, however I'm told both of these could still occur. My next appointment with Dr. Morton is in November, 6 months after the treatment.
COULDN'T FIND A GOOD CANCER JOKE
I wanted to end with some humour and searched the Internet for a good prostate cancer joke but was surprised to find nothing worth repeating. I guess our culture doesn't find cancer very funny. However here is a prostate story:
A PROSTATE STORY
A man walks into his doctor's office and sits down in the waiting room. While he's waiting, another patient walks in and sits down next to him. The newcomer asks "Ww what are yyy you doing here?" The man replies, "I'm waiting to see the doctor." "Ww why do you www ant to sss see him?" The man replies, "I have a prostate problem." A pp prostate ppp problem, wwhat's ttthat?" "Well, if you must know. I pee like you talk." That about sums up my peeing experience.
OUR HEALTH CARE SYSTEM
I would like to close by saying that my opinion of our health care system after this experience is very high. I was able to see the doctors I needed to see without significant delay; had my options explained to me so I could make a decision, and received the selected treatment quickly and efficiently.
SPENDING MONEY OUTSIDE THE HEALTH CARE SYSTEM
I also believe that, even if I had been willing to spend vast amounts of money for special treatments, my chances of success would not have been any better. We're very lucky to live in Canada!
See also: MyProstateCancer.ca